En Mendoza la naturaleza asoma diversa y mágica, ornamentando el mapa de formas cautivantes y novedosas: es una región en la que todos los días se puede registrar una novedad, aún entre los que creen haberlo visto todo. En este sentido, no es difícil encontrar en cualquier hotel a los émulos de Indiana Jones comentando, excitadamente, lo que han conocido esa misma tarde.
La lista de actividades posibles es bastante extensa: desde las serenas y expeditivas cabalgatas hasta los vértigos del canotaje, el kayac o el rafting, que reorientan el sentido de los ríos montañeses hasta convertirlos en una excusa del juego o la temeridad. También los titanes de piedra retan a duelo al turista. Y, por lo general, el aventurero no se achica y se anota en alguna partida. Puede ser a través del trekking, el mountain bike, el hikking o rappel y -si viene lo suficientemente preparado- hasta puede apostarle unas fichitas al parapente y a los vuelos en globos.
Northern Region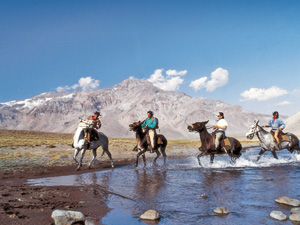 Northern Rg. – Adventure tourism
In every northern region department (Gran Mendoza, Maipú, Luján de Cuyo, Santa Rosa, La Paz, San Martín, Junín, Rivadavia and Lavalle) it is possible to play adventurism. Its varied geography offers from going paragliding in Cerro Arco (Las Heras) to going rafting in Mendoza River or nautical activities in Carrizal. Horseback riding, trekking through the Andes, and a lot more activities are available.
Central Region
Central Rg. – Adventure tourism
Valle de Uco departments' geography – San Carlos, Tunuyán and Tupungato– has an ideal atmosphere which provides challenges for adventure lovers. It is possible to discover the secrets of the mountains, to go horseback riding through green valleys; to cross rivers or plunged paths in four-wheel-drive vehicles. To ascend Maipo volcano or arouse adrenaline in mountain biking. These activities are just an idea of everything that Valle de Uco has to offer.
Southern Region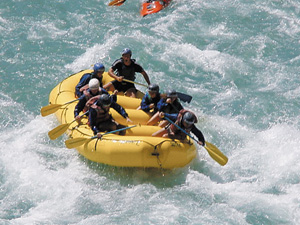 Southern Rg. – Adventure tourism
Adventure tourism is constantly adding new followers in San Rafael. Valle Grande (Great Valley) has become the ideal scenery for those who want to relieve some adrenaline. The topography of the place offers a huge diversity which makes it possible to play all of the following exciting sports: Rafting, kayak, doky, catamaran, windsurf, fishing, diving, tyrolean, rappel, mountain climbing, canyoning, four-wheel-drive vehicles, mountain biking, hiking and horseback riding. For the not-so-risky people, other activities are offered in General Alvear, such as long walks, biking through fields, photograph safaris, bird watching and sport fishing.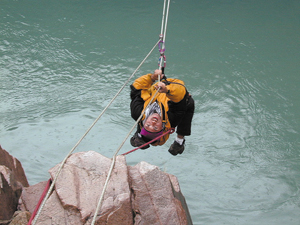 Southern Patagonian Rg. – Adventuretourism
Malargüe presents multiple varied sceneries and all of them with ideal places to let your imagination fly and let yourself go in an adventure. Malargüe displays a big offer for people eager for adrenaline rush: geological and paleontological trekking, rafting, mountain climbing, rappel, canyoning, tyrolean, horseback riding trough the Andes, fly fishing and birds watching.
Esta entrada también está disponible en: Spanish Portuguese (Brazil)